The Student Residence was built in 2001. The student residence is located on the campus, opposite the main building.
There are four blocks of student residences. Each block consists of five floors. Female students are separated from male students. Sixty rooms are available where three students share a room. Basic amenities are clean and well-maintained.
Students living on campus are expected to experience happy and harmonious life through their stay and, at the same time, develop self-discipline.
• Sports Facilities
• Garden
• Computer Centre
• Modern Language Centre
• Southern New Media Centre
• Library
• Academic Research Institute
• Hall
• Student Activity Centre
• Convenience Shop
• Cafeteria
• TCM Outpatient Centre
• Free Internet Service
• 24-Hour Security
• Free Equipment Maintenance Service
• Cold/Hot Water Dispenser
• One Hall for each Hostel
• Washrooms on each Floor
• Self-Service Washing Machine
• Clothes Balcony
• Air-Conditioned Study Room
• Public Room
• Dining Area
• Parking Area
• Bed Frame
• Wardrobe
• Book Rack
• Desk and Chair
• Fan
• Basin and Mirror
International Education Building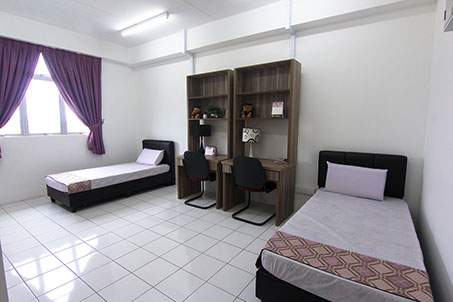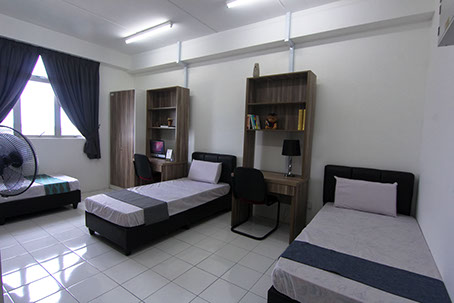 The 10 Reasons of Living in the Student Residence
1. On campus – No traffic jam and save time.
2. Safe – There is 24/7 security guards on duty.
3. Cost-efficient – The utility fees, rental fees, internet charges, and maintenance fees are inclusive of the rent.
4. Comfortable – Our student residence provide a near-to-home living environment and is equipped with 24-hour Internet services, television, water heater, and other facilities.
5. Convenient – Study room, recreational facilities and cafeteria are within walking range.
6. Supportive – Residential advisors are employed to assist hostel residents, and to build a better living and learning environment.
7. Time-saving – Convenience shop and photocopy shop are available for students' convenience.
8. Socialising – Have chance to live with other residents from different backgrounds, creating a more conducive environment for discussion.
9. Chances – By actively participating in learning activities, hostel residents will have better chances to add value to themselves.
10. Experience – Gain interpersonal communication skills, which will help them students to face challenges in the future with more confidence.