Our Great Aspiration
One Vision, One Heart (2019)
A Bountiful Deed
A Tribute to My Life Mentors
Our Great Aspiration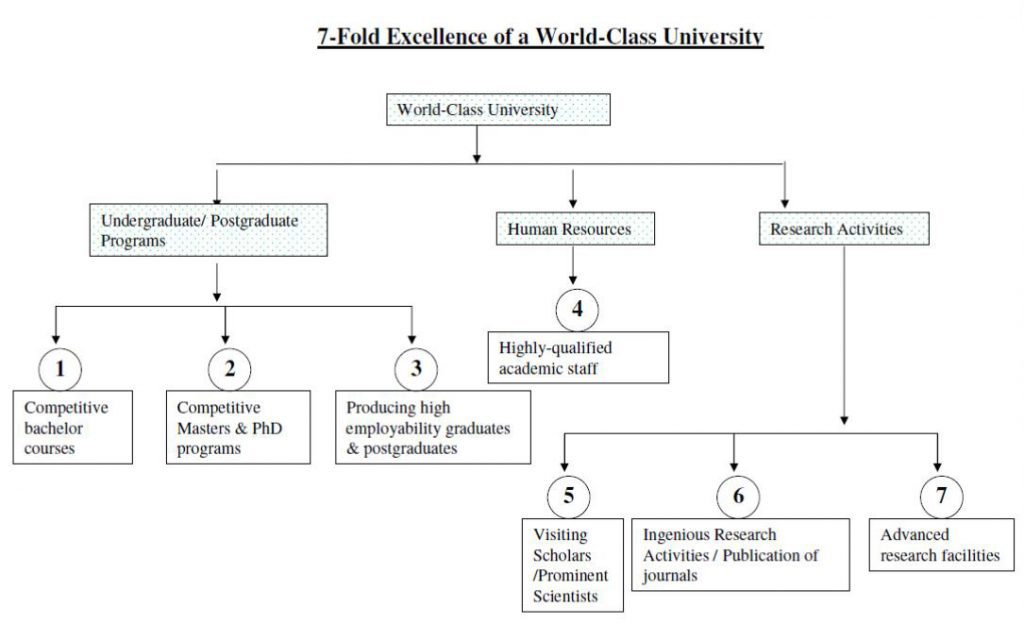 Our Great Aspiration
As the saying goes, "Where there is no vision, the people perish…".
One must have a mission, vision, goal or plan to lead a focused, productive and fulfilled life.
At Southern UC, we have great aspiration; we aspire to attain national and, ultimately, international renowned status as the prominent academic institution in the southern region of West Malaysia. As a young University College, we need to persevere and align all our efforts towards our hope of achieving a full-fledged University status in the near future.
As an institution funded by the local Chinese community, we owe it to our past generations of donors who had entrusted us with this establishment. We are accountable for the future of the University College and its directions in pursuing excellent academic expectations of, and for, the Community.
As your appointed President, I appeal to you to join me in one accord in ensuring that the mission and vision, conceived by our predecessors, are embraced, and all efforts are aligned to achieve the noble aspiration that has been set before us: become a university by 2021.
To guide us to our destination, we must have clearer insight of what we aim to achieve. So, what makes an excellent or world-class University? I would like to share with you my thought on criteria of an excellent, world-class University.
My notion was derived from three different examples of assessments, namely The Times Good Universities Guide, Financial Time Ranking for UK Universities and Asia's Best Universities Overall Ranking over past few years. It was found that university assessments done in different continents adopted different approaches and did not have the same inclusion of all factors in deciding the ranking of universities. However, it was established that highly ranked universities portrayed some similar traits of excellence. The seven factors (which may not be exhaustive) that have been identified are as follows:
i) Competitive undergraduate programs / courses
ii) Competitive Postgraduate Programs (Master's & PhD)
iii) Output of high employability of graduates & postgraduates
iv) Highly qualified academic staff
v) Ingenious Research activities / publication of journals
vi) Advanced research facilities / infrastructure
vii) Visiting scholars / prominent scientists
These factors can be broadly grouped into three main categories: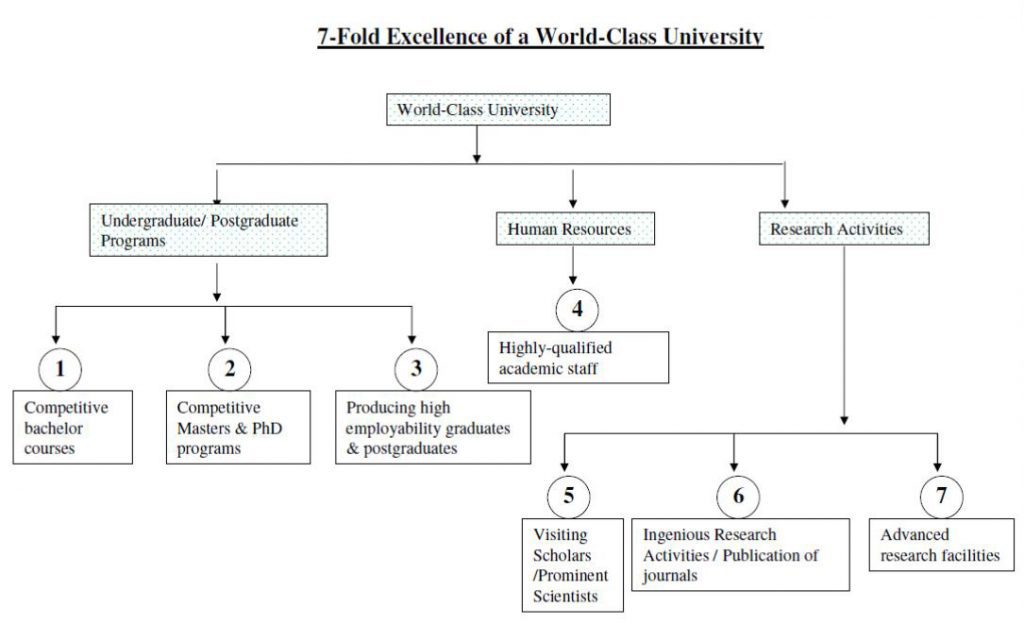 Academic/ Curriculum Development
Undergraduate & Postgraduate Programs / Courses
The current trends of universities are gearing towards multidisciplinary curriculum development, e.g. fusion of computer programming and chemistry, computer and biology, has led to many novel discoveries in their respective fields. There is no doubt that a university that embraces multidisciplinary teaching and research would be the leader in the years to come.
Comprehensive reviewing of the curriculums offered by a university should be done yearly to generate graduates and postgraduates that meet the demands of the job market.
Competitive undergraduate & postgraduate programs contribute towards the status or academic standing of the university in the academic community. The quality of teaching and learning were assessed, and it was found to be one of the main factors included in all the three different assessments mentioned.
Employability of graduates & postgraduates reflects on the reputation of a university in the competitive job market community. High percentage of graduates either pursuing professional training or postgraduate degrees were used to assess the quality of the said universities.
Human Resources
A highly reputable university would attract prominent and well-qualified academic staff.
These prominent scholars can in turn contribute their expertise as visiting scholars in giving lectures and conducting research.
On-going training and upgrading of academic staff would continue to ensure high quality of teaching and research activities within the university.
Research Activities
A world-class university usually boasts of its advanced facilities in information technology and instrumental facilities. (e.g. it was expressed in terms of spending of the universities per staff).
It has to be teaching-focused as well as research-focused.
It needs to continue to upgrade itself in all the advanced facilities available to ensure high quality research and publication of papers can be done swiftly and efficiently.
On-going strategic collaborations/ affiliation with universities or industrial entities would boost the research activities. The talk of having entrepreneurship or techno-preneurship within an educational institution is rapidly gaining the attention of government and universities as the world enters into globalized knowledge sharing.
Self-reflection is important as we can gauge how far we have to travel to reach our destination. Perseverance is the key, and we shall work within the resources that we have to plod on the journey to excellence.
Dear Southern UC Community, let us work together in this exciting and challenging journey as we strive to become a full-fledged university by 2021.
One Vision, One Heart (2019)
A Bountiful Deed
A Tribute to My Life Mentors